Accredited Debt Relief - Reviewed & Compared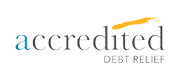 Summary
Being in debt isn't fun. It's just you against a tidal wave of interest payments and increasing balances. So having someone on your side is really helpful. That's where Accredited Debt Relief comes in. Are they somebody you want on your side? Let's find out.
Company Overview
Accredited Debt Relief is a company who specializes in standing by their customer's sides as they negotiate and settle their debt. They've been in business since 2008, so they do have experience in this industry, and as such, they offer a wide range of debt relief strategies.
The Accredited Debt Relief website is what one would expect, with prominent "get a free consultation" phone # and buttons, and customer-driven Q&A menus that lead you through the process. I like online interactivity as much as the next guy, but I also like the option to drop it all and pick up the phone, so Accredited Debt Relief does well here.
It's a simple website – with clear links and a clean interface. I never felt like they couldn't help, so that confidence is welcome when I'm looking for a debt relief professional.
MORE: How Much Can Settling Your Debt Save You Every Month?
What Accredited Debt Relief Does Best
They give you a lot of options related to your debt, and they make you feel comfortable. For example, they have a page where they show different amounts that they settled for customers and the creditors they settled with. In other words, you can see that yes, they settled with Citibank and Amex (et al) – this makes consumers who owe money to those institutions feel better. Now, I would expect any high level debt relief company to be able to work with anyone, but there's still a level of reassurance that comes from seeing the Citibank logo when it's Citibank who's leaving nasty messages for me.
As stated earlier, I like the prominent phone option, and the pages of different debt-relief strategies are helpful and informative. Again, I always felt like these folks were very competent.
MORE: How Much Can Settling Your Debt Save You Every Month?
Any Negatives?
The only negatives I could really think of were the lack of a chat option, and maybe their time in business. When you are in debt, the phone can feel like your enemy – an online chat to go over the basics could be seen as a nice touch. I'd like to see some of these companies adopt that – it's admittedly a minor thing, but it's how this reviewer feels.
As far as the time in business, it's really not a negative, but it has to count for something, more or less to be fair for those that have been doing this longer. But to be clear, Accredited Debt Relief is not a new company.
What Others Are Saying
An A+ BBB rating and a bevy of positive reviews should make you feel comfortable about Accredited Debt Relief.
Our Final Verdict: 9.5/10
Accredited Debt Relief is a company that you should talk to when comparing and searching for a debt relief partner. I'll ding them a bit for that lack of chat and not being in business for as long as some others, but in the end, Accredited Debt Relief is a professional debt relief company that has all of the options a consumer in debt would want.
GET STARTED