GetSafe - Reviewed & Compared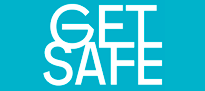 Summary
Get Safe is a newer security company that has a very modern feel. Not just in the equipment they offer, but in their demeanor and online presence. Let's just say they definitely aren't "old school". But does this upstart have what it takes to make a dent in the industry? Let's find out.
The Good
Get Safe is a company that embraces a DIY spirit. They offer a wireless security system that has most of the popular components you'd want, with the price advantage of simple DIY installation.
Their DIY mentality also extends to monitoring, where they offer a "self-monitoring" option for folks who don't want to have a central station handle the monitoring. They also offer both contract and contract-less options, so, in true 21st century fashion, you are not locked in if you don't want to be. That's always good.
MORE: What's the Best Home Security System for Your Needs?
The Bad
Well, I get a very millennial vibe from their website wording and presentation. Not really what I'm after when looking for home security. I also found no carbon monoxide detector option, which most other companies have. I can't find a BBB rating either, and lastly, their self-monitoring price seems a little high for my taste.
MORE: What's the Best Home Security System for Your Needs?
What to Expect
Wireless home security that has most if the popular options.
Both 24/7/365 monitoring, or self-monitoring for a lower price.
DIY system that's easy to install, and can be taken with you.
Control panel and app control.
No contracts if you don't want them.
Our Final Verdict: 8.5/10
Get Safe is a respectable security company with some good ideas. The options are many, from self-monitoring to no-contracts, and the price is right. Get Safe is certainly worth a look if you want a DIY security system.
GET STARTED