Bestow - Reviewed & Compared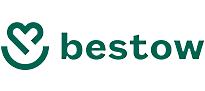 Summary
Bestow was founded by two friends in 2015 who knew there had to be an easier way to get affordable life insurance. They partnered with North American Company for Life and Health Insurance® (who's been around since 1886), and set about making term life insurance much easier to get.
The Good
Bestow has a strong online presence, great info, great rates on flexible term life insurance, and a super fast, simple application process without doctor visits. Policies are issued by an industry titan, so your policy is in good hands.
In addition, I loved their totally unique "2 year policy". This is perfect for young people or people transitioning to another job, etc. – it gets them coverage for now, without a big commitment.
MORE: What's the Best Life Insurance Policy for You?
The Bad
People looking for other than term insurance, or a live agent, should look elsewhere (to be fair, this isn't the company's market).
What to Expect
A life insurance provider that understands today's consumers.
Excellent rates on a variety of term life policies.
A really unique "two year policy" for people unsure of their long term needs.
Simple application process with no doctors.
Has the backing of a large, well-known insurance company.
MORE: What's the Best Life Insurance Policy for You?
Our Final Verdict: 0/10
Bestow is how insurance should be done these days. We loved their online presence, and their multiple coverage amounts at great prices.