SaferVPN - Reviewed & Compared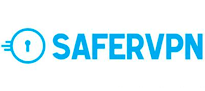 Product Overview
As soon as you fire up SaferVPN, you realize how easy it is. It won't even ask you what city you want to connect to – instead, you get a region (and some are even labeled "streaming"), which takes any confusion out of the equation. SaferVPN means this, as they make "ease of use" a key feature, offering everyone full VPN protection at the touch of a button.
Ease of Use
No VPN is easier to use. You get countries and/or regions to choose from, and the program will even tell you which are best for streaming. This is a VPN even grandma can use.
MORE: Get the Best VPN for You »
Technical Specs and Features
Like other VPN's we've reviewed, SaferVPN will cover all of your devices (Windows PC's, Mac, Android, iOS, Linux, Tablets, and Smartphones.)
34 Countries.
700+ Servers at this Writing.
5-Star Trust Pilot Rating.
24/7 support via Chat.
Pricing
A great bargain at $2.50 a month for a three-year plan. Month to month is $12.95, which is on the lower end of the price scale as well.
Any Negatives
Well, the number of servers is lower than others. So advanced users may want "more". But for beginners and everyday households, SaferVPN is a great choice.
MORE: Get the Best VPN for You »
Our Final Verdict: 8.8/10
SaferVPN makes up for its smaller server list with an interface and design that is ideal for beginner users.
GET STARTED