VyperVPN - Reviewed & Compared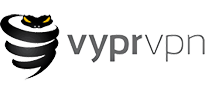 Product Overview
VyprVPN is tailor-made for people who want a serious VPN, and are looking for one that is easy to use in a "bypass VPN blocking" sense. VyprVPN has some advanced features we haven't seen anywhere else, and the fact that they own their own servers gives an added a layer of security.
Ease of Use
It isn't difficult by any means. Other VPN's really go to lengths to "dumb it down", but VyprVPN assumes its customers can at least understand a basic VPN interface. We had no trouble.
MORE: Get the Best VPN for You »
Technical Specs and Features
All devices are covered - Windows PC's, Mac, Android, iOS, Linux, Tablets, and Smartphones.
70+ Global Locations.
700+ Servers (currently – always growing. Plus, the company owns them all.)
We Love Their Advanced Chameleon™ Feature That Bypasses VPN Blocking. Experienced VPN Users Know How Important This Can Be.
24/7 support via both Chat and e-mail.
Pricing
Monthly plans run $9.95 and $12.95, while yearly essentially cuts those in half. We consider the yearly a good value.
Any Negatives
Price might be a bit higher than others, but for the features offered, we feel it's worth it.
MORE: Get the Best VPN for You »
Our Final Verdict: 9.3/10
VyprVPN has some advanced features that other VPN's do not have, making them a great choice for the serious VPN user.