CareOne - Reviewed & Compared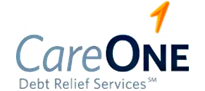 Summary
The best feeling the world when you are in debt (besides being out of debt, of course) is the sense of having someone on your side. CareOne seems to really understand this feeling, and offers debt relief that's not only effective, but offers a feeling of community. Is that going to be effective for you? Let's find out.
Company Overview
CareOne is debt relief company with a "face". What I mean by that is they put the company owner, Bernie Dancel, front and center. Bernie was in debt early in life, and knows the feeling. Listening to his story (the video is right there on the main site's front page), I got the feeling that this company really understand what you are going through. It definitely made me feel good.
The company utilizes the popular "one payment" debt settlement strategy that many debt relief companies offer. It's popular because it is effective – instead of paying your creditors, you have an account that CareOne uses to pay them after negotiating your debt down. CareOne also guarantees you will be debt free within a reasonable time.
MORE: How Much Can Settling Your Debt Save You Every Month?
What CareOne Debt Relief Does Best
They make you feel like someone cares. There are a lot of companies that offer generally the same debt-relief service, but CareOne really made me feel like I had a sympathetic ear (and an arm around my shoulder) as we navigated the process. The main website is warm, and has a clear sense of trust and community. They have articles, tips, testimonials, plenty to read, and even a forum. But they also have an easy way to contact them / get started, and a free evaluation.
Even their landing pages have some meat to them – the ones I saw from various ads had a video, the guarantee spelled out, and more. In an industry where sometimes little information besides "sign up" is offered, CareOne clearly goes a step further.
MORE: How Much Can Settling Your Debt Save You Every Month?
Any Negatives?
Perhaps they go a step further because any "real" information on the company is hard to find. Without some old-fashioned detective work, I could not find out how long they've been in business (the parent company, 3C incorporated, has been in business 25 years… you would think that's something one would tout.) More on this in the next section.
What Others Are Saying
There is no BBB rating on CareOne. That's actually a little odd. Even companies who are not BBB members / subscribers usually have a rating. Most of the info on their media coverage page are press releases. This doesn't mean the company is not reputable, but going by the information on their site, I can't readily tell if they've been around for ten years or ten months.
Our Final Verdict: 8.4/10
I definitely like the feeling I get from their website, and I like the completeness of the information. They also offer a money back guarantee, which is always nice. However, the scant "official" info and lack of a BBB rating gives me reason to deduct a little over a point. That said, although not a household name, CareOne seems to have all of the debt relief bases covered, and is worth a look.