Credible - Reviewed & Compared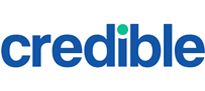 Company Overview
Fast Facts Really fast service that gets you actual rates quickly. Checking and comparing rates will not impact your credit score. We love the no-spam / no-selling your info business model. Fantastic website that even allows uploading of loan documents.In business since 2012, Credible takes the popular loan aggregator service (comparing refi rates from multiple lenders), and improves upon it greatly, as evidenced by their pledge to not spam you or sell your information. We really like that, and we also like their website that is both easy to use, and technologically advanced.
MORE: Calculate your monthly mortgage refi payment
What Credible Does Best
They get you competing mortgage refi rates fast. And these are real rates by name lenders – not just estimates. We really like that. We also like how silent our phone and e-mail were after checking rates – we weren't deluged with the usual "refi" spam. Lastly, I really liked that you could upload documents to their site, making the paper trail much easier to manage.
MORE: Calculate your monthly mortgage refi payment
Any Negatives?
Pretty much refi-only when it comes to mortgages, but that's it.
What Others Are Saying
1500+ reviews on TrustPilot, with a 9.5/10 rating. Very nice.
Our Final Verdict: 8.9/10
Credible is aptly named, because they value transparency and honesty in getting you the best mortgage refi rates around. Use them with confidence.