Green Chef - Reviewed & Compared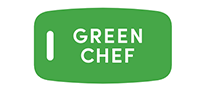 For many people, a meal delivery service should deliver fresh, organic ingredients, along with an easy to follow recipe, and let the customer do the cooking. That's exactly what Green Chef does – they source the highest quality, non-GMO, organic ingredients; perfectly proportion for healthy, home cooked meals, and deliver them to their customers. It's a great way to eat healthy without meal planning and shopping.
The Skinny on the Food
The ingredients are very high quality. Certified organic and non-GMO, they are amongst the best we've tasted (not every meal service does Organic and non-GMO, so this is a big deal.) The ingredients are perfectly portioned, and ready for you to unleash your inner-chef. And the menu is adventurous – how about Sage Pesto Baked Cod or Shaved Steak with Creamy Chimichurri? Yea, we thought you'd like that (we did!)
MORE: What's The Best Home Meal Delivery Service?
Green Chef Pros
The freshest, non-GMO organic ingredients – seriously, if this is important to you, look no further.
All ingredients are pre-measured and ready for you to combine and cook. So yes, you do get to cook here.
They have a varied menu, and is really good for those who like to try different foods. All recipes are chef-crafted
Choose from 2 and 4 person dinner plans, and from several different options (Balanced Living, Paleo, Keto, Plant-Powered, etc).
There's no commitment – you can skip weeks whenever you like.
Any Negatives
You can't choose specific recipes, only the overall plan. While this is not ideal for picky eaters, it's really great for those with adventurous tastes.
Costs
Superb value for the high-quality Organic ingredients. For example, the two-person plan starts at $9.99 per serving.
MORE: What Health Insurance Is Best for You?
Bottom Line: 9.0/10
Green Chef is for people who really love to cook excellent meals. Their plans are diverse, the organic ingredients are tasty and fresh, and the recipes are delicious.
GET STARTED