U-Pack - Reviewed & Compared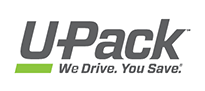 Summary
When it comes to moving, there are generally two types of people – the ones that want the movers to do it all, and ones who want to pack and load themselves. U-Pack is a great option for the "pack and load ourselves" crowd, and can save you a lot of money in the process.
The Good
Their pricing is fantastic. In essence, you pay for only the space you use, so if you pack and load efficiently, you can really save. This allows you a lot of control over what you pay, and may even help in a "do we really need to take that?" aspect. U-Pack will drop off a container, pick it up when packed, drive it to your new home, and come take it away when you've emptied it. Easy as that! Couple this with great customer service, and you have a winner.
MORE: What's the Best Moving Company for Your Move?
Any Drawbacks?
You have to pack and load yourself (or hire someone separately). But since that's the whole idea behind U-Pack, this isn't really a drawback.
Features and Highlights
Cost effective, as you pay for only the space you use.
Drops off a container, you pack, they move, you unpack. Simple.
Need help loading/unloading? U-Pack can refer expert help.
Long term storage available if needed.
Rewards packing efficiency and leaving unneeded items behind.
Excellent website with a free quote tool.
MORE: What's the Best Moving Company for Your Move?
What Others Say
4+ stars from the Better Business Bureau makes us feel very comfortable.
Our Final Verdict: 9.4/10
U-Pack is a great moving option for cost-conscious people who don't mind packing, loading, and unpacking themselves.
GET STARTED