Loans Mutual - Reviewed & Compared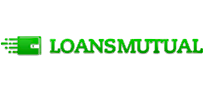 Summary
Loans Mutual specializes in helping consumers who need smaller amounts for shorter terms. This means someone who needs $1,000 to cover an emergency home repair has a resource that caters to that exact need.
Company Overview
Since 2012, Loans Mutual has been matching consumers who need short term, smaller amount loans with loan companies who specialize in providing exactly that.
MORE: Is Getting a Personal Loan Right for You?
What Loans Mutual Does Best
They do exactly what consumers want them to do – match up a short term, lower amount borrower with a lender that can help them. Many lenders do not want to work with consumers who need smaller amounts, so Loans Mutual fills that niche very nicely.
MORE: Is Getting a Personal Loan Right for You?
Any Negatives?
Only the fact that any short-term lender is going to be seen as a negative by the high and mighty large banks - but those large banks aren't lending regular folks $500, are they? No issues here.
What Others Are Saying
I'd like to see a BBB rating. But they do get good marks from secure web service Comodo Secure.
Our Final Verdict: 8.2/10
If you need a short-term loan, these folks fit the bill nicely. Loans Mutual fills a needed niche – an online lender specializing in small personal loan amounts.
GET STARTED