1&1 - Reviewed & Compared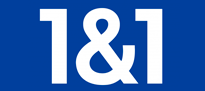 1&1 Review
1&1 offers everything a business needs to have a truly great web presence, at a price that's hard to beat. Then they go a step further and offer tools like MS Office 365 (at a great price) and cloud services to complete the package.
Notable Features
Has everything you need, from domain names to website building to hosting.
The site builder is easy to use with plenty of templates.
E-mail, WordPress hosting, cloud services, e-mail, and much more.
All websites are responsive, meaning they look great on all devices.
Great pricing on everything.
MORE:  What is the Best Online Website Builder?
Ease of Use
1&1 is super easy to use. The site builder starts you off with plenty of basic templates to choose from, and every skill level of web designer will find something to like here. All of the other services are clear and easy to use.
Pricing
The pricing starts at essentially $1 a month for basic services, and goes from there. The pricing is so good that we don't see any business having an issue with it.
Any Negatives?
No "free" option, but quite frankly, the prices here are so good, and the services so expansive, that we didn't miss it.
MORE:  What is the Best Online Website Builder?
Who 1&1 is Best For
1&1 is perfect for the business that needs everything, and the option to get MS Office 365 at a great price cannot be overlooked.
Our Final Verdict: 9.7/10
1&1 has it all – website builder, hosting, domain names, e-mail, cloud services, and even MS Office. All at a great price – check them out for certain.
GET STARTED