H&Rblock - Reviewed & Compared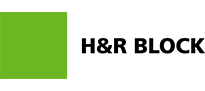 H&R Block has been around since 1955, making them one of the oldest tax preparation services in the industry. Let's see how they stack up.
Overview
Industry giant H&R Block is well known, thanks to their longevity and more than 12,000 brick and mortar locations nationwide. They offer a robust online tax preparation service that's very competitive.
MORE: The Best Online Tax Software For You
What H&R Block® Does Best
They are very straightforward and helpful with "if this is your situation, then this is the level you need". We liked that a lot, and also liked the free chat support (with expert tax review help available for a fee.) There are plenty of refund options (direct deposit, etc.), and they can also advance your refund (for a fee) if you wish.
Return Types and Costs
They have a free EZ option (both federal and state).Their other levels are Deluxe ($34.99), Premium ($54.99), and Self-Employed ($74.99). We found ample discounts available. They don't show you what forms you get with each, instead guiding you via your needs. State returns are $36.99 for all paid levels.
MORE: The Best Online Tax Software For You
Any Negatives?
The only thing we found lacking was we couldn't easily find out which forms were included.
Our Final Verdict: 9.8/10
H&R Block is a long-time, trusted name in taxes, and their online tax filing service reflects their longevity and professionalism.
GET STARTED