e-file.com - Reviewed & Compared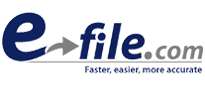 e-file is an online-only tax filing service who clearly caters to people who like online options. They have the forms and the tools, so let's see how they stack up.
Overview
Authorized IRS e-file provider efile is based in Fairfax Virginia, and provides a comprehensive tax calculation and filing service that is one of the more comprehensive online offerings we've seen.
MORE: The Best Online Tax Software For You
What e-file® Does Best
They've got a lot (and we mean a lot) of tools and information to help you. They have calculators, tax estimators, and other information to help you get the most out of your tax return. And when it's time to file, they have three simple options to choose from.
Return Types and Costs
Great prices. There's a free basic option (1040EZ, both Federal and State), a Deluxe option ($39.95), and a Premium option ($49.95). We found lots of discounts, too. They give you examples to guide you (families, mortgage, etc. use Deluxe, and so on.) Free chat support at all levels too.
MORE: The Best Online Tax Software For You
Any Negatives?
If you have a tricky return (i.e., self-employed with a family and investments), it's not 100% clear which level you need. That said, you can start them all for free to see if they meet your needs.
Our Final Verdict: 9.6/10
e-file knows online taxes, and boasts an incredible amount of tools and tax refund estimators for savvy online customers.
GET STARTED