Liberty Tax - Reviewed & Compared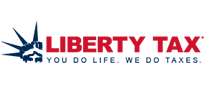 Liberty Tax® is a growing tax preparation service that has a prolific offline presence and a solid one online. Let's see how they stack up:
Overview
Liberty Tax® has nearly 4,000 locations nationwide, plus a growing online presence. They obviously have experience, and they guarantee the accuracy of their refund calculations.
MORE: The Best Online Tax Software For You
What Liberty Tax® Does Best
They are very up front with what forms you get for the levels of service they offer, and they have interesting features, like their free "Double Check" for customers to use on or offline (and it even works on competitors), and a free import of competitor's returns. They also use their locations effectively – if you get stuck online, the transition to "in-person" in a local office is seamless.
Return Types and Costs
Returns start with the 1040EZ level, then it goes to basic (families – 1040 plus schedule B), deluxe (businesses – more forms, plus schedule C), and premium (investors – adds schedules B,C,E,F,K-1). Pricing runs from $14.95 for the EZ to $69.95 for the highest level, but frequent discounts can be found.
MORE: The Best Online Tax Software For You
Any Negatives?
No Free EZ option, and no app. The EZ is not very expensive, and the offices more than make up for the app, so we still like them.
Our Final Verdict: 0.0/10
Liberty Tax's® pricing and features speak for themselves, and should be on your shopping list for online tax preparation.
GET STARTED