Esmart - Reviewed & Compared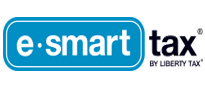 E-smart tax's® tagline reads "The Smart Choice to Get Your Biggest Refund". We like that a lot. But how do they measure up? Let's find out:
Overview
e-smart tax® is the online tax preparation service backed by prolific tax preparation service Liberty Tax®. This means they have the resources of a company that has nearly 4,000 brick and mortar locations nationwide, and they guarantee the accuracy of their calculations.
MORE: The Best Online Tax Software For You
What e-smart tax® Does Best
They have a nice selection of returns, and a very straightforward presentation regarding what you get with each level. Their EZ service is free, and includes chat support, and also includes the option to import previous returns, which makes it one of the better free services out there (note: all levels offer this). We also like the interview style process, and the fact that you can always use their physical locations if you get stuck.
Return Types and Costs
As mentioned the 1040EZ plus schedule B is free, Basic level ($19.95) is for families (1040 plus Schedule B), Deluxe ($34.95) for investors (lots of forms, plus Schedule C), and Premium ($44.95) is for Business Owners (adds schedules B,C,E,F,K-1). Free and Basic have chat support, the others have expert support.
MORE: The Best Online Tax Software For You
Any Negatives?
No app, and not a household name. Neither is a big deal to us. Pricing is good, but not the lowest.
Our Final Verdict: 9.0/10
e-smart tax® offers a comprehensive and affordable online tax preparation service, with the backing of Liberty Tax's® brick and mortar locations.